This knowledge article provides instructions on how to seamlessly integrate Ditto with various remote videoconferencing software such as Microsoft Teams, Cisco Webex, Google Meet, Zoom, and more. By utilizing Ditto, participants attending in-person meetings can convene and actively engage in hybrid meetings, with the added convenience of only requiring one person/device to join the videoconference.
How it Works
The computer running the videoconferencing software is mirrored to the larger meeting room screen, allowing everybody in the room to see and communicate with remote meeting participants and view shared content.
Requirements:
A Ditto receiver connected to the TV or display in your meeting space
The Ditto receiver must be set up in your Ditto Account Portal
A videoconferencing software solution like Teams, Meet, Webex, Zoom, etc.
Learn how to integrate Ditto with videoconferencing hardware for hybrid meetings.
Simply join the videoconference on a Mac or Windows computer, then use the Ditto Connect app to share your computer screen to a larger display running Ditto Receiver. This will enable everyone in your meeting spaces to participate in hybrid meetings while only requiring one person/device in the space to join the videoconference.
There are two important elements to consider:
Audio
Since the videoconference software is running on a computer, the local (computer) microphone is used for detecting and capturing audio. However, output audio (audio you hear in the room) is muted on the computer and played from the speakers of the display you are mirroring by default.
If users wish to keep output audio local to the computer speakers, select the mute icon in the Ditto Connect app window (number 1 in the figure below).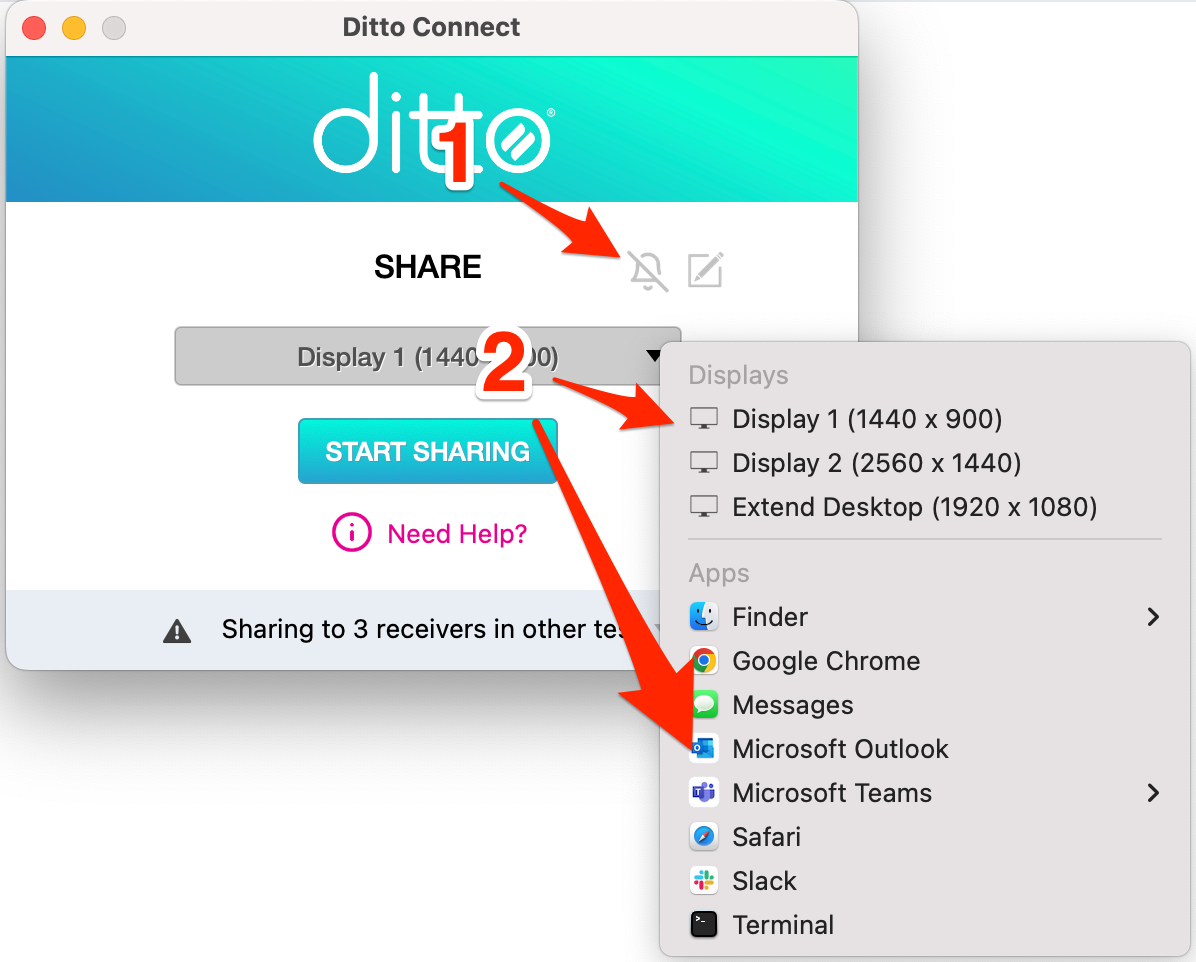 Mirrored Content
Ditto users can choose to simply mirror the videoconference application or retain the ability to multitask on the computer while mirroring.
In the Ditto Connect app, a dropdown menu shows what is being shared (number two in the figure above). Users may choose to mirror their entire computer display or a specific application instead.
If the computer is only being used to run the meeting, we recommend mirroring the entire display and running the meeting software full screen.
If a user needs to multi-task or use other applications on the computer during the meeting, we recommend selecting the meeting software from the apps selection in the Ditto Connect dropdown menu. This allows the user to mirror the meeting software to larger meeting room displays while retaining the ability to use the computer for other tasks.
Note:
Application and browser windows that are minimized or fully obscured from view may not be rendered enough for Ditto to continue capture of content that is hidden from view on the screen.
Additional Notes:
If you have multiple TVs/displays in your meeting space and you want to share the videoconference with all of them, simply connect and set up a Ditto Receiver on each display. In the Ditto Account Portal, group all of the receivers in the same Ditto room.