There are a variety of options/featured in the Reflector menu. The information below explains what these icons are and how they're used.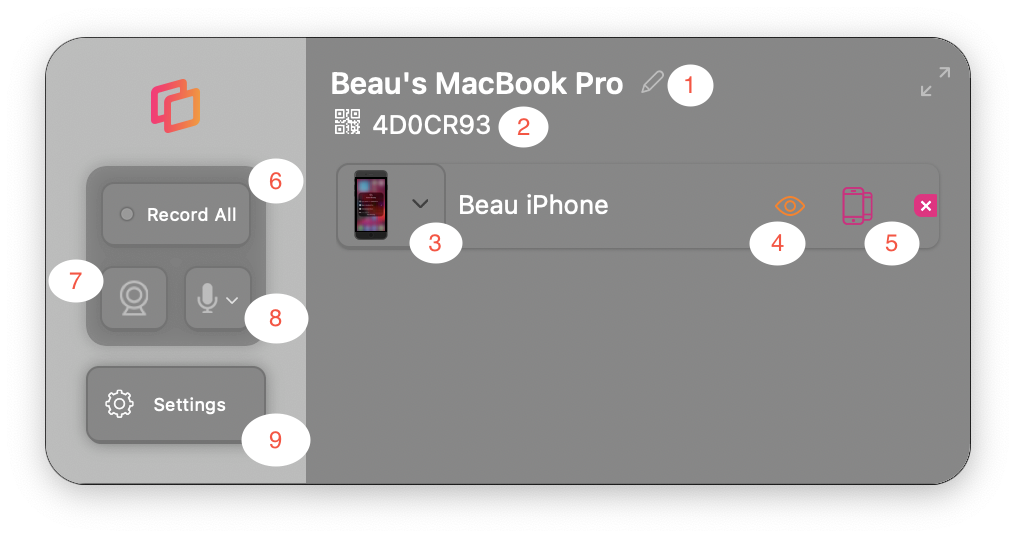 1. Computer name
Use this option to edit the name of the computer as it appears in your screen mirroring/cast menu.
2. Quick Connect code
In some cases, you may need the Quick Connect code to create a connection using Reflector Director with Reflector Teacher.
3. Frame options
Use this dropdown to select the available frame options when mirroring your device.
4. Hide and show devices
The eye icon gives you the option to easily hide and show mirrored devices on your computer screen.
5. Emphasize devices
When mirroring more than one device, you can toggle the emphasize device button to accentuate a particular mirrored device.
6. Select devices to record
Use this button/dropdown to select individual devices you'd like to record or record all devices at once.
7. Enable/disable your webcam
If you'd like to enable or disable your webcam while using/mirroring with Reflector you can do so via this icon.
8. Select microphone
If you'd like to record voiceovers, you can use this icon to enable the microphone. Use the arrow next to this icon to select the microphone you'd like to record with.
9. Reflector settings
For Reflector preferences, etc. click this icon